My first $10,000 Client: September Challenge Lens Test
I was searching for a tree one day for a clients photoshoot and I came across this blue park bench. You know, when something strikes you as beautiful, the challenge to the photographer and designer is to recreate what they see, either in their mind, or in front of them, knowing the tools that they have and using them correctly.
So this blue park bench… I wanted to see what my lenses could do!
A little bit of background on this challenge:
I've watched and read a few books and Ted talks about neuroscience and learning that I know that you can only get better if you practice and the harder the activity the more chance that the skill will move from short term memory to long term memory. So once a month I am going to give myself a hard challenge. I'm making myself a $10,000 client. I borrowed this idea from composite photographer Renee Robyn. If a client wanted to pay me $10,000 to work on the same day that I am learning, then of course. But until then… I am the client. Which makes sense because without growth I won't be able to stay afloat in this business.
So this months challenge I wanted to test and experiment with lenses and I wanted to answer the following questions:
What happens when I aperture on this?
What happens when I use video?
What happens when I move around?
What happens when I change the focal length?
The lenses I used were:
Tamron 16-300mm F3.5 -6.3 VS  AF-S Nikkor 50mm 1.8 G using full frame Nikon D750
I have three lenses and its fair to say that my Nikkor 50mm prime is my favourite to use. It is so sharp and the bokeh is gorgeous. I mainly use my Tamron 16-300mm for wide angle shots, long exposure work and beautiful close ups.
I knew that I wanted to also experiment with video with the final goal of making a cinemagraph.
What happened?
I started with my Tamron 16-300mm.
Focal length at 16mm. I wanted to convey how big the forest was in compared to the chair. What I noticed was, this was not the focal length that I was actually seeing with, as in my two eyes. So it was something entirely new.
I was there at about 9:15 in the morning, the day was overcast. I didn't have my polarising filters so I couldn't tone down the white of the sky. I tried to by bracketing exposures in the hopes of bringing them together in Photoshop HDR PRO.
See below the bracketed exposures SOOC and the final HDR (High Dynamic Range) image.
0.4 sec F/9 – 1/15 sec F/9 – 1/15 Sec F/9
All the images were taken at F/9 in the hopes of having really sharp detail. The park bench has been compressed and there is distortion around the edges. Kinda happy where the whole process took me though. Probably I would look for more shadows and more light to create more of a dynamic range for next time.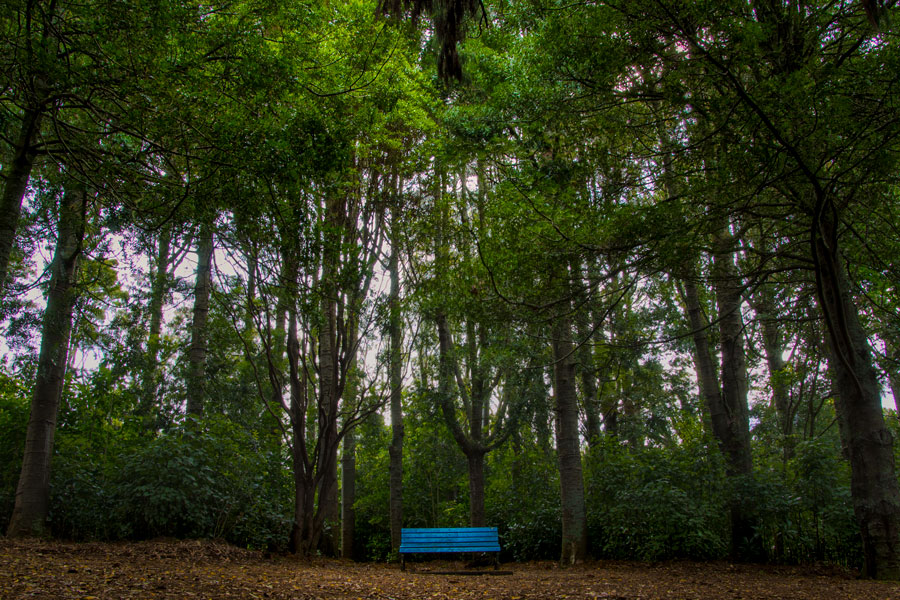 HDR Image made with Tamron 16-300mm F/9
Nikkor 50mm 1.8 Prime Lens
Always a clear favourite for me. This image is basically SOOC so it speaks for itself. I knew as soon as I took this image that it was actually looking at in real life. I'd managed to recreate a view of what I was seeing.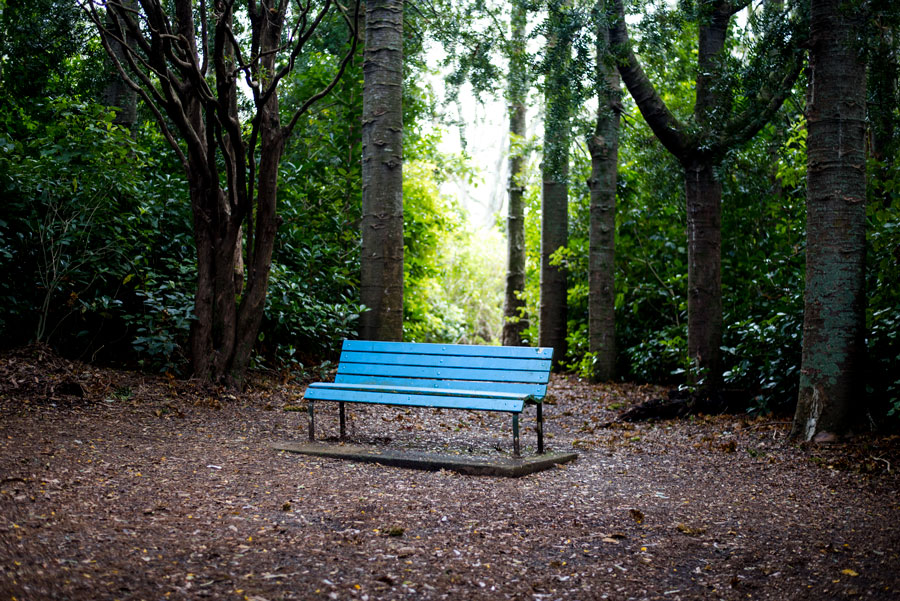 Image made with Nikkor 50mm at F1.8 1/40 sec ISO 100
Creating the Cinemagraph:
During the shoot there comes a time when I know that I have the image or video that I want. During this shoot, that happened after I shot the video for the cinemagraph. Tutorials on doing this are all over the internet. I feel like creating partial movement to an image adds a new dimension on an already awesome photograph so I can't wait to use this in other shoots. One aspect was the overall movement can only be a few seconds long or else the file size is too big to load as a gif on website. Mine is way too long! Which is all good, lesson learned for next time. I've uploaded it to my Youtube channel so you can see it. I wanted it to start as an image and then eventually you notice movement.
Cinemagraph made with Nikkor 50mm at F1.8 ISO 100
Conclusion:
I find the difference in the two lenses amazing. It really shows what makes a photo and the different aspects I have to consider to create the effect I want. A very enlightening process. I think I've fully covered the blue chair now!
I have no idea about the rules of poetry but I think this is kind of a poem:
I'm in love with this Blue Park Bench.
Never mind that this park is filled with Native Forest.
It has no business being in the middle of town.
After two-seconds of walking, the sounds of civilisation fades; taken over by native birdsong.
Suddenly I come up a park bench.
Bright blue of all things.
I'm in love.
You can almost hear the birds singing.
Thank you for reading 🙂 Which is your favourite image? Comment below!
Experimenting with lenses,
Taryn McCrory 
McCrory Creative