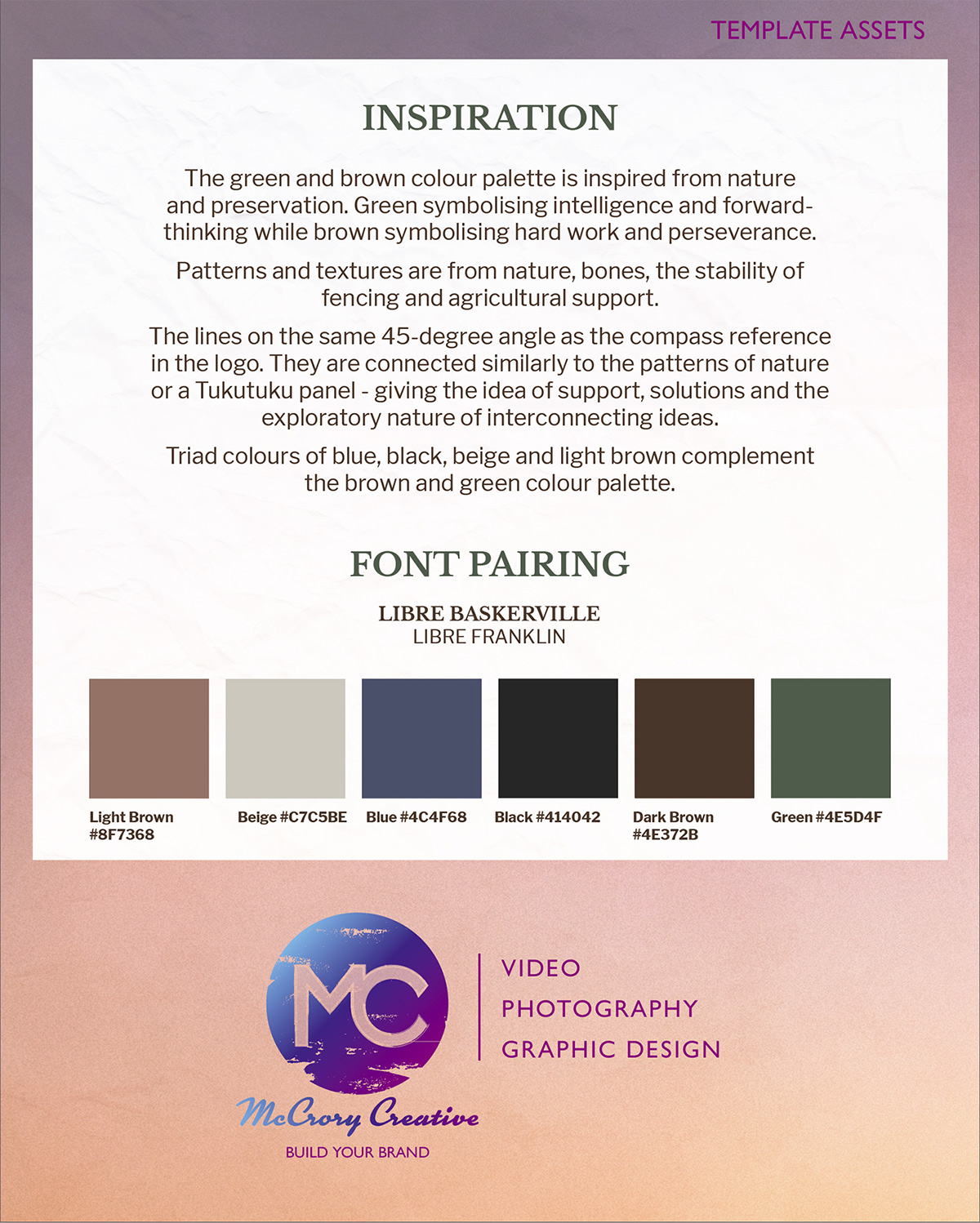 Heritage Preservation and Field Solutions is a unique brand.
Needing assets and colours created that would work across different platforms as well as a graphic that could encompass all aspects of the business. 
Heritage Preservation in partnership with Red OX preserves heritage and taonga items throughout Aotearoa New Zealand. Field Solutions provides agricultural fencing support to Taranaki Wide as well as providing support services to Antarctica.
When pondering this idea what came into mind was the different patterns on a Tukutuku panel and how they interconnect and support each other, which is similar to the pattern on a silver fern, which also is similar to how bones interconnect, which is also how fencing is connected, which also leads in to support services in Antarctica.  
I designed the pattern at a 45degree angle to match the compass points on the HPFS logo.  
The colours were inspired from the greens and browns from a silver fern and matched to each aspect of the company such as brown, black and green for the adverts and blue, beige, green, for the templates. 
Special consideration was made for the use of each design. Templates being for Google Docs, Pdf's and possibly printing and the other for Newspaper adverts. 
My mind enjoyed working on this project to create a cohesive design that connects all of the different aspects of the brand together. 
Thank you, Susanne, Geoff from HPFS Solutions and Sara from RedOx Cultural Cultural Heritage Services for choosing McCrory Creative to work on your brand. 
#TemplateDesign #GraphicDesign #AdvertDesign #BuildYourBrand #GoogleDocs #NewspaperAdvert